Two New Clients Arrive At Verve!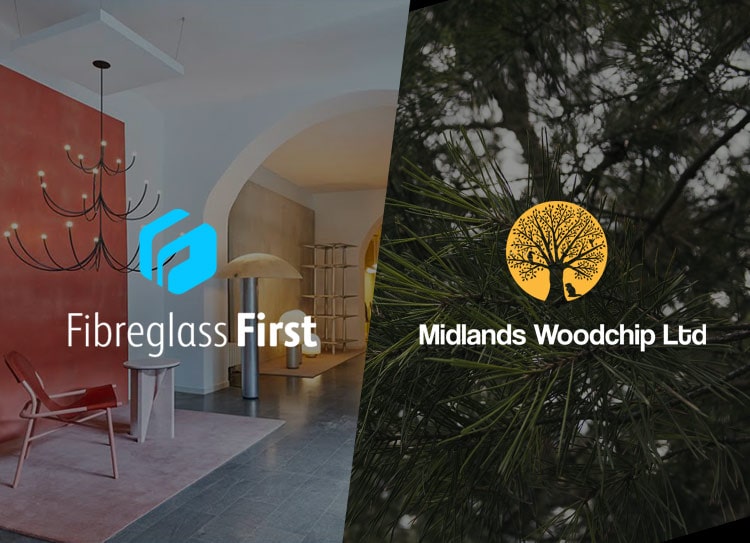 In the Space of Just Two Weeks there are Two New Clients for Verve!
Verve would like to welcome two new clients on board for October 2018, specialist fibreglass moulding consultancy and manufacturer, Fibreglass First based in Cheshire as well as Shrewsbury based Midlands Woodchip, a producer of high-quality dry wood chip for the biomass boiler market.
Fibreglass First
Fibreglass First offer both a turnkey solution and bespoke service from the design to the delivery of bespoke glass-reinforced plastic (GRP) composite structures. Their extensive knowledge and experience of GRP sets them apart from their competitors and enables them to provide a full consultation service at the beginning of any project.
Fibreglass First approached Verve with a clear objective. Their website, although content-rich, isn't providing an enjoyable user experience and representing the company as the modern, forward-thinking business that they are.
Over the coming months, Verve's design team will be busy creating user journey focused sitemaps and creative, bespoke design concepts for a number of new web pages that will collectively form the visual aspects of a brand new website.
Midlands Woodchip
Midlands Woodchip specialise in the production of high-quality dry wood chip and supply regionally throughout the Midlands. Priding themselves on exceptionally high standards and all year round service, Midlands Woodchip is one of the largest suppliers of woodchip across central England.
Company owner and director, Mark Owen, approached Verve with key objectives focused on improving the efficiency of his websites user journey and overall user experience. Verve is instructed to give attention and focus to the business's key messages around sustainability, accountability, quality of product and service and customer loyalty.
As with all Verve projects, following an initial kick-off meeting, we will be busy planning a new website sitemap that will lay out an efficient and effective website page hierarchy map of from both existing and new pages. Following this project milestone, Verve will hastily move into the design phase to create initial, first draft, design concepts of key pages for the new site.
Verve is extremely pleased to be working with two very successful and well established businesses who, like us, pride themselves on high-quality service and customer satisfaction.
We look forward to launching both new websites in late 2018, look out for them both in our portfolio nearer the time. If you would like to be kept up to date with new website launches, digital marketing tips, hints and news and new trends from for both e-commerce and non-e-commerce websites please sign up to our newsletter in the footer of our website.
The digital marketplace is an ever-evolving one, but that doesn't mean it has to be challenging for you. With the right marketing support behind your business, you can be assured that your digital presence is well represented online and clearly mirrors your company's ethos and key messages. With additional digital marketing support from Verve, you can be confident of staying ahead of your competitors and maximising your return on investment.
Contact Verve today to discuss your requirements, objectives and any issues you currently face with your business online and find out how we can help you grow in an ever changing digital environment.
info@verve-design.co.uk | Call Us On 01743 360 000