A Month In Search: March 2019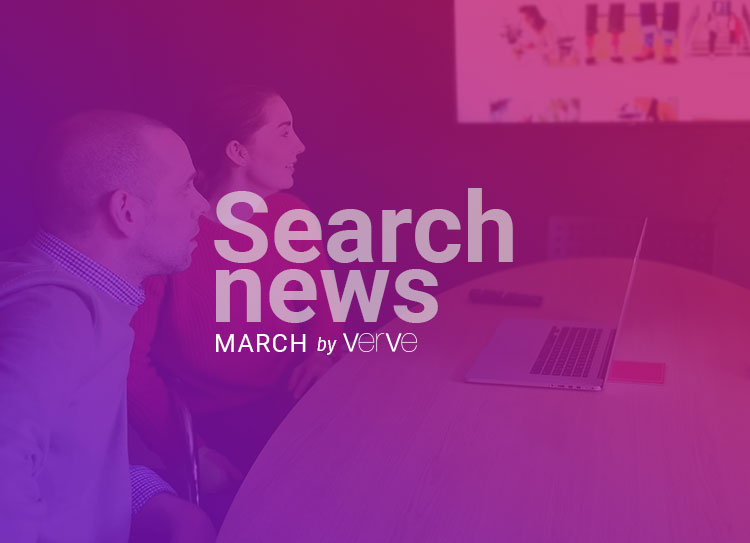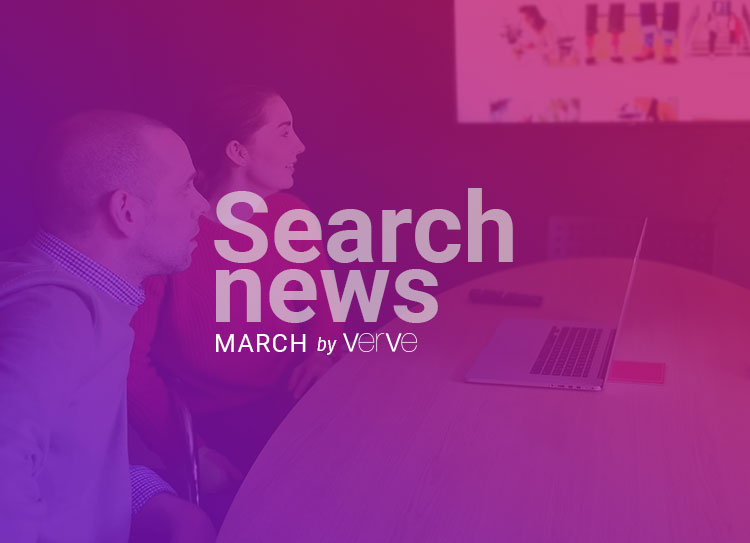 This month has been another busy month for us here at Verve – with lots of new exciting projects, New team members, and a change of domain name www.verve-design.co.uk – plus all the news from the world of search – So let's dive in!
---
Search Algorithm – Update
On the 12th of March Google confirmed there has been a core update to there Search Engine Algorithm.
So what has changed? Right now it is too early and hard to guess! The chatter online seems to be around 58 per cent say they saw a negative impact, 33 per cent say they have seen a positive impact with 9 per cent saying they haven't seen any change at all.
I'm sure we will get more detail next month – if you have any concerns get in touch so we can run a quick search engine rank audit for you.
Google My Business – Offers you a promotion
Google has once again updated there Google My Business (GMB) service, so businesses can further enhance their company profile with a new layout that features a dedicated space for promotional offers.
This means offers will show up more prominently when the business is searched for organically – letting users quickly discover what promotions you are currently running.
To update your GMB profile you can log in to your account and go to Google Posts section to add promotional offers. When you create a new post you should see an option to categorize it as an "offer".
Offers can include a description of the promotion, a coupon code or any terms and conditions useful to your audience, In so doing giving your user a lot more useful information and more chance of a valuable click-through to your website.
Lighthouse – Tap Touch
Google has updated there Lighthouse auditing tool to measure tap target spacing on mobile websites. When returning an audit, tap targets will now be factored in your overall Search Engine Optimisation (SEO) score.
As Google explains, tap targets are important for mobile design because placing targets too close together could result in accidental selections. Lighthouse will determine if tap targets are sized appropriately or not.
A Lighthouse audit can be run directly within your Chrome browser from the developer tools section.
Load any website in a chrome browser
Right-click > inspect
From the top bar menu choose "Audits"
Click run Audit
This will return results between 0% – 100% on:
Performance
Web App
Accessibility
Best practice
Search Engine Optimisation
If your results are not 100% please send me your websites URL and I will advise you about your results
Google Search Console – Sitemap
For some months now Google has been rolling out new features to there New Google console app – now Google has given site owners more control over how they control their XML Sitemap files, as now you can open the contents of a sitemap in a new tab, delete a sitemap, review more detailed errors and more.
Those actions include:
Opening the sitemap content in a new tab
Deleting a sitemap
Reviewing granular details for sitemaps with errors
Presenting RSS and Atom feed sitemaps
As webmasters, we all know the importance of a health sitemap so this new tool will make to the process of reviewing the health of your XML sitemap so much easier than before. It is nice to see a useful feature coming to the new console as immigration to the new Search console has been slow.
Note: From the 28th of March 2019 – The old Google Webmasters Console closed down with the newly named Google Search Console now being live
Google Search – Alternative
Last month I asked if you were a tree hugger! As there was a new search engine alternative to Google called Ecosia Read more here (Month in Search February) which I hope you have tried.
Another alternative to Google is the popular search engine called www.DuckDuckGo.com which has been ducking around for a while. DuckDuckGo is the most private search engine around today which means your searches will remain private and will not be tracked.
So I'm sure you can understand my surprise as for the first time ever, DuckDuckGo is an option that users can select as their default search provider in Google Chrome 0.73 – I'm sure we all feel Google tracks are every move – So well done Google for giving us this default choice.
30th Anniversary of the World Wide Web
While we are talking about web search, it was great to see on the 12th of March – Google recognized the 30th anniversary of the World Wide Web – Invented by the great English inventor Sir Tim Berners-Lee. The World Wide Web was invented in 1989 and then released free to the general public in August 1991.
Imagine living in a world without the world wide web – the world would seem a lonely place!
---
If you have any questions about the things we have looked at today please drop me a line here at Verve info@verve-design.co.uk – because if there is one thing the world wide web was designed to give us – it was the ability to start a conversation…