×
Claim
Your
FREE

Audit.

Full Website and Marketing Audit.

Fill in your details and one of our team will be in touch to start your audit.
Why Choose Magento – Infographic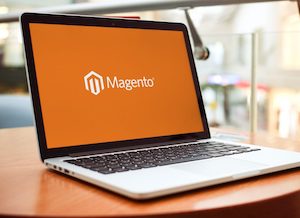 Why Choose Magento – Infographic
Just as the online landscape is constantly evolving, so too is the world of eCommerce. Rapidly changing consumer habits, emerging design trends and advances in mobile technology are just a few of the challenges faced by retailers of every scale.
At Verve, we have almost a decade of experience in building successful eCommerce websites, and have seen many trends come and go. But one thing that looks set to stay is the Magento eCommerce platform. Over the last few years, we have seen an increasing number of customers who choose to rely on Magento as the power behind their websites.
So just what makes Magento so popular? To help you learn more, we have created this infographic.
Whether you are considering launching a brand new eCommerce project or looking to upgrade your current website to a fully responsive Magento store, our team of experts has the knowledge and experience to deliver, whatever the shape or size of your business. Contact us here.
Share this Image On Your Site