Mailchimp or Klaviyo: which email provider should I use?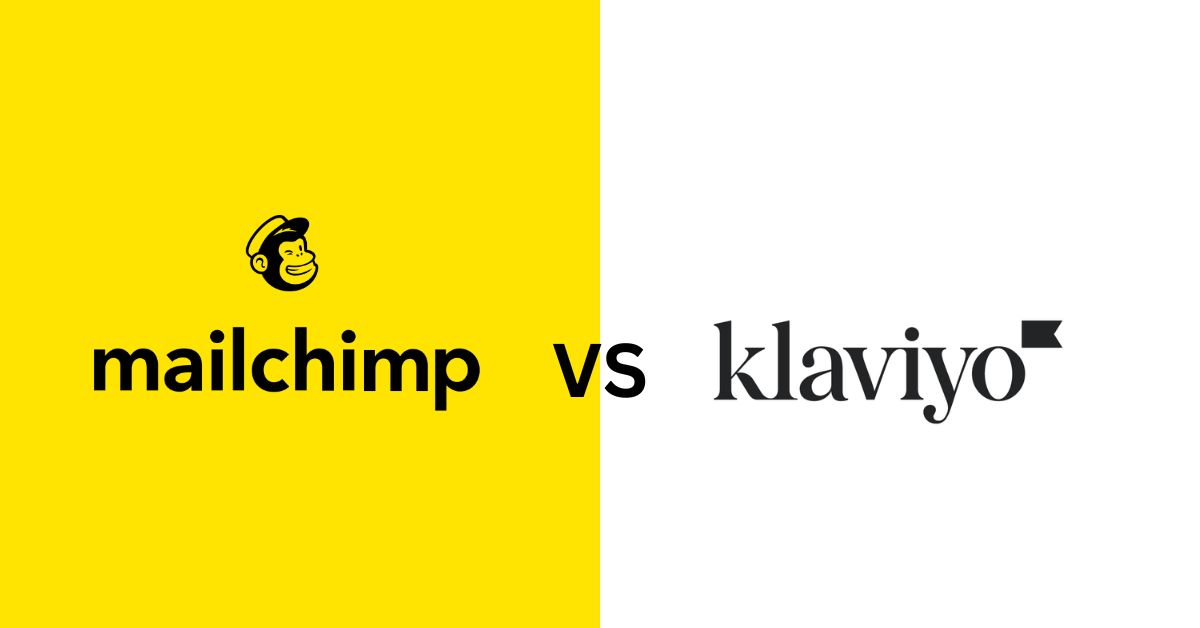 Email marketing is the single cheapest way for a business to effectively communicate with its customers. Continually building an increasing newsletter database should be a cornerstone of your E-commerce strategy, because it can act as a safety net to fall back on. As email segmentation and automation have become increasingly necessary, two email providers have led the way. We have mastered both of these providers, and will give you an overview of each so you can make an informed decision about your strategy and platform.
Mailchimp:
In terms of email marketing platforms, Mailchimp has arguably been the industry leader for a number of years. The cheekily-named platform is generally the cheapest platform on this list, and it is suited to the widest range of businesses; this has proven to be a winning combination.
Email Building:
The drag and drop builder is incredibly easy to use. With options to drop in buttons, images, surveys and more, Mailchimp allows you to build complex emails at speed. One of the best features of Mailchimp is the simplicity of adding code; if you have access to development, this can take your emails to the next level.
Score 9/10
Automation:
If you are not sending automated emails, then you are wasting a bucket load of time. Mailchimp gives you the power to send pre-built emails to subscribers in response to a variety of triggers. Whether it is a birthday, 4 weeks after a purchase or a simple welcome series, this allows you to send highly relevant emails at the correct times. If you are not an E-Commerce business, then Mailchimp will give you all the power you need, for the best price.
Score 8/10
Data and Segmentation:
Mailchimp can be integrated to your E-commerce store, but it will require a third-party and like some development time. Once integrated, it has fairly impressive power. You can send emails to created segments based on pre-captured demographic information or basic activity. Unfortunately, with Mailchimp you pay per list, not per subscriber. The combination of this and its slightly clunky 'audience' dashboard limited its power.
Score 6/10
Price:
Mailchimp offers a free plan which supports up to 1000 monthly email sends and one audience. This can be a great way to ease your way into the market without any spend. Mailchimp remains cheap until you get into serious newsletter list territory; the standard plan included 6000 sends a month for less than £20, but if you increase that to 150,000 sends you'll be looking at almost £300. Ultimately, you pay for what you send and this remains an incredibly cheap way to contact customers.
Score 8/10
Total Score: 31/40
Klaviyo:
The market disruptor has entered the mainstream; this is undoubtedly the platform I would recommend to any E-Commerce business who are serious about revenue growth. With a seamless connection to Shopify, a powerhouse of data and handy pre-built automations, you could spend hundreds of hours working on Klaviyo and still find untapped potential.
Email Building:
Klaviyo also benefits from a strong drag and drop email builder, and has fantastic functionality for making a mobile-optimised email. What sets it apart though, is its data. If you are an E-commerce store, then the ability to link your Klaviyo into your store and display products customers have viewed recently, or bestsellers is as time-saving as it is powerful. Creatively, Klaviyo is slightly more rigid than Mailchimp but if you are an E-commerce store, its data-related opportunities are immense.
Score 8/10. 
Automation:
Klaviyo seamlessly integrates with Shopify in a matter of minutes, but it will also connect with Magento, WordPress and more after some development work. Once connected, you will have access to literally hundreds of pre-built automations. From Birthday campaigns to Abandoned Carts, Klaviyo makes automation a piece of cake. The logic of its automated 'flows' are far superior to other providers, and it harnesses AI to give you the power of predictive modeling. Furthermore, flows can use both email and SMS in conjunction. For an E-commerce store, Klaviyo is the undisputed champion.
Score – 10/10
Data And Segmentation:
Klaviyo prides itself on data, and this is priceless if you are an E-commerce website. Once connected to your other systems, Klaviyo allows you to segment based on people who buy a certain product, or even view certain products. You can also send 7 different A/B tests as opposed to Mailchimps 3. In addition to this, you get a hub where you have immediate access to incredibly useful and insightful reports. Once again, you could spend a lifetime creating different segments and emails, yet still have more to explore.
Score 10/10
Price:
Klaviyo's free plan only comes with 500 free email sends, however it is a much easier platform to keep track of. Rather than charging for sends, you are charged for the amount of contacts in your email lists. This approach does not punish you for your own success, and you are automatically upgraded to the category you fit into and charged the applicable amount. In summary, it can start as the more expensive option, but if you take email marketing seriously it becomes a better model.
Score 8/10
Total Score: 36/40
Conclusion:
These are undoubtedly the two email providers you should choose from, and both offer powerful digital marketing capabilities at a very fair price. If you are an E-Commerce store, then Klaviyo is a no-brainer thanks to its winning combination of usability and scalability. Whilst easy to set up, its potential is limitless. Mailchimp remains a great option if you are less product-focused but still wish to have a comprehensive email marketing strategy. 
If you want help building an email marketing strategy that takes advantage of the huge opportunities offered by automation and segmentation, then get in touch by emailing us info@verve-design.co.uk