A Month In Search: December 2016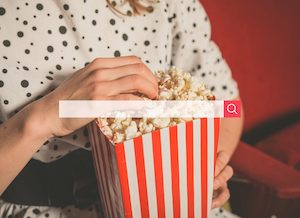 A Month In Search: December 2016
Verves roundup of all things search in December 2016.
Google testing: Like/dislike movies in search results
Google has started testing a new feature that allows users to rate a movie directly in its search results with a like/dislike rating system. Google is keeping pretty quiet on the subject at the moment stating they are testing the feature but nothing is to be announced at this time.
New photo insights for Google My Business
Google my business is invaluable for local businesses and Google has launched a new insight to help business track the performance of their images. The new feature is housed within the Google My Business dashboard and allows users to measure their photo views against their competitors. The photo views appears in a graph format with a blue line to measure your own performance and a red line to compare businesses like yours.
Amazon steps in the world of Google Adwords
Since the introduction of product listing ads (as we now know to be called Google Shopping) Amazon has stayed clear of using the Google Shopping platform to promote its advertisers products. Recently it would appear that Amazon has been testing the Adwords platform for further promotion. With the Adwords real estate on first page results increasing last year (taking the top 3 result positions to 4) organic only optimising advertisers would have felt some effect, and the larger the company, the more products the advertise the more damage this effect would have had. It therefore makes sense for Amazon to try PPC channels as another marketing channels for its advertisers products.
This may not be a welcome addition for those competing with Amazon though and means smaller businesses will need to readjust their strategies to accommodate the additional competition.
Bing Ads App adds 'edit expanded text ads functionality'
The bing ads app for iOS and Android is a really efficient app allowing users to edit ads on the move and the search engine company have now extended this functionality to expanded text ads also. The app also allows for bulk editing, a feature found in it desktop ads editing tool.
Want to increase your websites ecommerce revenue or enquiries for service? Call Verve today on 01743 360000 to discuss how we can help you do just that.