A Month In Search: April 2018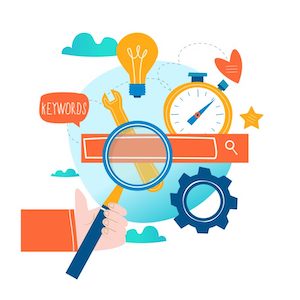 According to Google, the most searched term in April was "April fools pranks". So who got caught out as an April fool this year? Well, I did! A co-worker here at Verve texted me a speech .gif and yes I waited for the text message to arrive only to realise it was a speech bubble image of someone typing a message. Let's see what other changes this fool has spotted that you may need to take into consideration in the ever-changing world of search!
---
New 'Save' Button On Local Business Panel
Last August, Google began displaying a save button on local panels on mobile search results. Now, some are seeing the save button on the desktop version of the local panels as well. This is a handy little feature as you would be able to build your own list of favourite places and then access all of these from within your Google Maps account.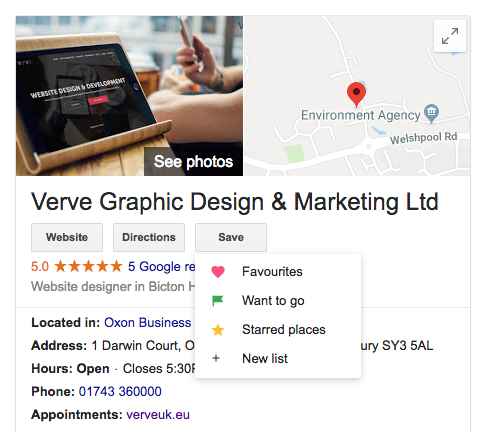 Google testing more results button
Google have said they are testing a "more results" button for desktop and mobile. At the moment when you reach the bottom of Google's Search Engines Results Page (SERP) you have an option to click next page ie page 2, and the next page of results will load. With this new "More Results" button, this would mean instead of clicking next and waiting for the next page to load, you would just click the 'more results' button instead of the more search results automatically load onto the bottom of the previous results. This new feature would speed up search speeds dramatically so we will keep a keen eye on this one as it would be one of the biggest changes to the results page Ux for some time.
Google my Business – Services
Google My Business (GMB) has added a new feature under your GMB control panel call 'services' Google has expanded the ability for more businesses to add their services to their menus. This includes not just restaurant owners, which they added a few months ago, but more service businesses, from plumbers to florists to health and beauty, and even web developers.
Google saves 200 years of typing every day!
Google has opened up with more statistics for 'google's autocomplete search' function for desktop and mobile, showing the benefits of the function by saying it saves users "over 200 years of typing time per day" by reducing typing by around 25 percent.
When this function was first rolled out it was hit with some controversy as some of the predictions lead people to accuse the company of being racist or leaning a certain way politically. This has moved the company to work hard in removing certain search terms, by offering people the ability to 'report inappropriate predictions'
---
These changes should be welcomed as they are all helping searchers, search faster, safer and easier, so we can't see many people not enjoying these updates. If you have any questions about your own digital strategy please contact us by calling us on 01743 360 000 or email at info@verve-design.co.uk